Introduction
In today's life managing customer relationship is very important to achieve any organization's success. That time Customer Relationship Management (CRM) systems plays an essential role. There are so many CRM platforms are available but most popular platform is Salesforce CRM. In this article we will discuss the functions and benefits of Salesforce CRM.
What is Salesforce CRM?
The Salesforce CRM is a cloud based Customer Relationship Management platform its designed to help and manage businesses and integrate with customers. It provides a variety of features and tools that let businesses manage essential tasks like customer support, marketing, and sales smoothly.
The Most Important Pillars of Salesforce CRM
Contact Management :-
Salesforce Customer Relationship Management (CRM) allows companies to have a unified and well-organized database of customers, leads, and potential customers. This feature makes it simple to access important client information, enabling more individualised interactions and superior customer service.
Sales Automation :-
The Salesforce CRM automation tool can be useful to sales teams. By automating time-consuming operations like lead generation, follow-ups, and quote production, it improves the sales process and frees up sales personnel to focus on cultivating connections with potential customers.
Marketing Automation :-
Businesses may plan and carry out customized marketing initiatives with Salesforce CRM. The platform makes it possible for businesses to improve their marketing strategies by enabling them to track the success of these campaigns and by providing useful data.
Customer Support and Service :-
Salesforce Customer Relationship Management has an effective customer care infrastructure, enabling organizations to quickly resolve customer questions and issues. This guarantees greater consumer satisfaction and encourages enduring loyalty.
Analytics and Reporting :-
Workforce productivity increases because to the processes that Salesforce CRM streamlines. By automating routine processes, the manual workload is reduced, allowing staff members to devote more time to strategic endeavours. Increased revenue and greater overall performance are a result of this improved productivity.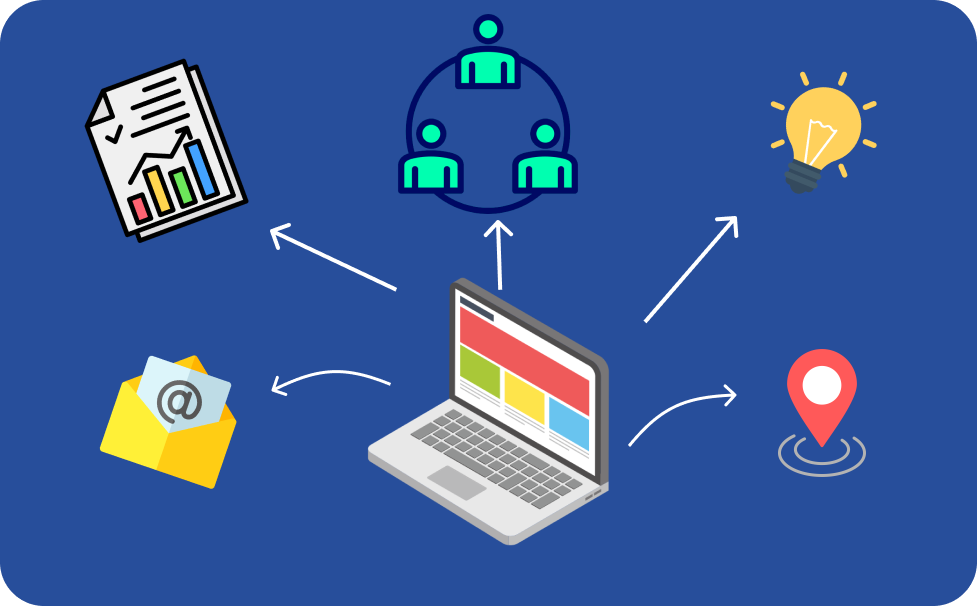 How Salesforce CRM Give Power to Businesses
Improved Productivity and Efficiency :-
Due to the various procedures that Salesforce Customer Relationship Management simplifies, employee productivity rises. Automating routine tasks reduces the manual workload, providing staff members more time to focus on more strategic duties. Increased revenue and improved performance are both affected by this improved productivity.
Easy Collaboration and Communication :-
The platform makes it easier for various organisational units to collaborate effectively. Teams from sales, marketing, and customer service can exchange information and cooperate to achieve shared objectives. Through increased communication, customer needs are better understood, and a more organized strategy is developed to satisfy them.
Improved Marketing Initiatives :-
It gives power to marketers to focus the right audience and create personalized campaigns, and measure their impact. This leads to improved lead conversion rates and better ROI on marketing investments.
Better Sales Efficiency :-
Automation of sales processes removes manual tasks and decreases administrative loads on sales teams. This allows them to concentrate on establishing connections and closing deals, Which boosts sales productivity.
Increase Customer Awareness :-
Combining customer data and interactions, It empower businesses to get valuable insights into customer behavior and preferences.
Conclusion
Salesforce CRM is a powerful tool that helps companies to grow there business. With the help of salesforce CRM company can track customer activity, and more services. It provides best solution that developing and growing business can easily implement and connect all the solution that are important to them.
Official Website for Salesforce